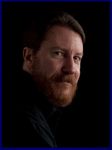 What is normal? What is paranormal? Mind-over-matter, psychic healing, and ESP? Ghosts, hauntings, and poltergeists? Near-death and out-of-body experiences?
All of these are part of the fascinating world of paranormal and parapsychological research.
Neil McNeill has been studying and investigating psi phenomena for over fifteen years, and is currently offering college-level courses in paranormal investigation and energy medicine in the greater Seattle area.
Follow the links above to learn more about Neil, his classes, and the whole range of paranormal phenomena which are all part of the normal human experience.
Thanks for visiting!